COVID-19 Booster and Flu Vaccine
Our clinics are now live - we will be starting to invite eligible patients to have both the COVID-19booster and the flu vaccine at the same time. If you are eligible and have not yet received a text invite you can still ring the practice to book in.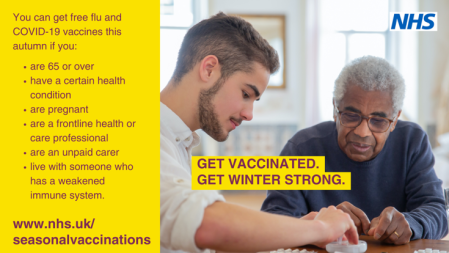 COVID-19 vaccines, pregnancy and breastfeeding
The Royal College of Obstetricians and Gynaecologists (RCOG) strongly recommend COVID-19 vaccines in pregnancy. Vaccination is the best way to protect against the known risks of COVID-19 in pregnancy for both women and babies, including admission of the woman to intensive care and premature birth of the baby.
In the UK, all pregnant women are urged to book their latest COVID-19 booster vaccine for the autumn/winter season as they are recognised as a clinical risk group.
With new variants in circulation, it is particularly important for pregnant women to have a full course of COVID-19 vaccines if they have not already done so, to protect themselves and their babies – having the two doses and the booster makes you 88% less likely to be admitted to hospital with COVID-19 than those who are unvaccinated.
Women may wish to discuss the benefits and risks of being vaccinated with their healthcare professional and reach a joint decision based on individual circumstances.
We continue to recommend COVID-19 vaccination for women who are breastfeeding.
Women trying to become pregnant do not need to avoid pregnancy after vaccination and currently there is no evidence to suggest that COVID-19 vaccines will affect fertility.
FAQ's have been updated on 20 October 2023 and will be reviewed as new information and advice emerges. For general information on pregnancy and COVID-19 visit the RCOG main Q&A page.